Training for a triathlon is just as important as the race itself. People train for numerous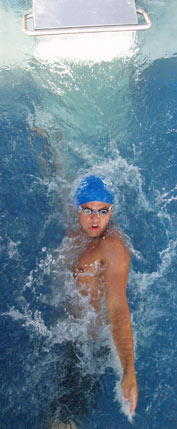 reasons. You can train to win… you can train to beat your personal best… you can train just to finish. Any way you look at it, training is essential to competing. However, not only is the reason why you train important, but where and how you train is essential as well.
When you train on your bike, you train in an environment similar to that of race day. The same goes for running. However, you usually practice swimming in the confined environment of a 25-, 50-, or perhaps (if you are lucky) a 100-meter pool. You swim a lap, slow down, touch the wall, turn around, and push off the wall to start your next lap. While you are indeed swimming, this motion pales in comparison to what you actually experience in a triathlon swim.
In a triathlon, you swim a course without lanes and without that "push off" break. When you swim in open water, there are no boundaries… no limits… and no walls. It is a feeling of freedom and sometimes anxiety. Swim training in an open water environment is essential to preparing for a triathlon. It will not only prepare you physically, but mentally as well.
Unfortunately, most triathletes do not have the luxury of an open water swim environment near where they train. And, over half the country's annual climate conditions are not conducive for year round outside training. So, now what?
Endless Pools offers a variety of products for all needs and budgets to solve this problem. Endless Pools has many alternatives to help you train at home in a compact, personal pool that most accurately simulates an open water swim in a way a traditional pool cannot. By eliminating turns and stops, you can get a better understanding of your true open water endurance. What's more, by training in an Endless Pool product, you'll have the resources to do an entire triathlon in your neighborhood — you can even practice transitions at home!
The current produced by an Endless Pool product is far superior to the current produced by other "jetted" swim spa systems. The water flow from the swim unit is wider than your body and deeper than your stroke creating a smooth, comfortable, river-like current for the swimmer to swim against. And since the speed is adjustable, Endless Pool products are perfect for the beginner to the most competitive swimmer and everyone in between.
The Original Endless Pool, the signature pool, offers unrivaled design and installation flexibility and the highest swim quality current available. Because of its modular design, it can be installed outside or in existing indoor spaces such as a garage or a basement. In addition, the Endless Pool can vary in size from 7' x 12' to 10' X 16' with water depths up to 6' deep making it extremely versatile.
"Most triathletes have jobs and have to squeeze in their training regimens around their other obligations. Instead of bending my entire schedule to adapt to the hours at a public pool, my training routine can be much more flexible. I'll even do, say, 3,000 yards of aerobic training on the spur of the moment."
~Sheila Taormina, Olympic Triathlete
Already own a pool that is great for gathering, playing and relaxing, but is just too short for a challenging swim? Put in a Fastlane®, by Endless Pools, the premier counter current swimming machine that can be added to any pool. With two models and colors to choose from, you can enjoy the highest quality swim current available and easily adjust the speed with a handy floating remote.
"The Fastlane training makes my swim WAY TOO FAST! I used to come out of the water in Tri's deep in the pack, just happy I did not drown. In yesterday's race (my first of the season), I came out of the water in 17th place. Those guys up front are fast on the bike and run… now I need to bike more and run more."
~Frank Edelblut, Aspiring Age Group Winner and Most Improved Swimmer
In addition to the wide variety of counter-current swimming products, Endless Pools offers a multitude of options designed just for the triathlete. Kick it up a notch with the 7.5-horsepower High Performance Current that yields a sub-minute 100-yard pace.
Track your progress with the Swim Pace Display, a 7" high-visibility digital LED display that presents the pace of your swim in minutes: seconds per 100 yards or 100 meters.
Use the Underwater Swim Mirror to provide visual feedback on your stroke as you swim, and analyze and improve your stroke with the Underwater Camera.
Add our Underwater Treadmill and you can complete all your swim and run workouts without leaving your home. Training has never been so convenient!
Save