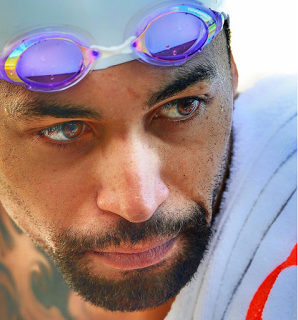 Watch Roy Burch swim. You see an athletically built, talented young black man powering through the water. What you can't see by simply looking at this swimmer is a phoenix rising from the ashes: Following the death of his most beloved fan and a near-crippling injury, he's still training for his biggest victory yet.
Young Dreams
Roy-Allan Saul Burch was born in November 1985 in Paget Parish, Bermuda. By the time he was four, Roy could swim much further than his peers. He would go to docks and bridges to swim in the beautiful water surrounding his country. He swam in competitions, cheered on by his mother, Karen.
He was only 8 when Karen was diagnosed with cancer. As he recalls, she always knew swimming would be important in Roy's life, helping him rise above the limitations that have been placed on black men. She also pushed him academically.
Although not as supportive of his swimming career as his mother, Roy's father would bet money on his competitions to help inspire him. This was highly effective during his pre-teen years, so much so that his father ending up giving him some of the money.
During his senior year at Peddie School in New Jersey, Roy's mother passed away, along with his dream of having her see him compete in the 2004 Olympics. It was during this difficult time that Roy realized how much his mother had done for him and how much he now needed to do for himself.
Making a Name for Himself
After swimming well during his junior and senior years in college, Burch represented Bermuda in the 2008 and 2012 Olympics. Although he didn't medal, he took pride in knowing how happy his mother would have been for him.
At the 2011 World Championships, he set Bermudan records in the 50m and 100m freestyle; he also earned national titles in those two events and in the 50m butterfly.
Training with the Best
Roy has been living in Charlotte, North Carolina, since March of 2011, focusing on his swimming career under the direction of Coach David Marsh as part of SwimMAC's Team Elite.
Being able to train with Coach Marsh was an accomplishment in itself. Marsh had a policy of training only medalists, so he initially turned down the 21-year-old. This motivated Burch to work harder, and four years later, Marsh finally accepted him to Team Elite.
A Rupture in Progress
A typical day of training for Burch includes between three to six hours in the water, plus general and core strength training out of the water.
In a matter of seconds, Burch suffered a major setback to his 2016 Olympic dreams. On March 27, 2015, as he was completing a dry-land workout on the basketball court, he felt both of his legs pop and buckle underneath him. He describes this moment as if someone had pulled a rug out from under him.
He was diagnosed with bilateral patella ruptures, which required surgery the following day. He used a wheelchair and eventually graduated to a walker, then crutches, and finally to one crutch. Two months later, he entered the pool again, assisted by a crutch.
Now, Roy works with a strength trainer daily and does Pilates twice a week to increase his post-injury mobility, connectivity, and strength. Though his training is not quite back to the level it was before his rare injury, he hopes that it soon will be.
The Road to Rio
Although this was not the road to Rio he anticipated, Roy has dedicated himself to a purposeful and successful recovery.
He calls the entire experience humbling. He knows that even though this major setback has taken him off his planned course, he has the potential to make a stunning comeback. He finds inspiration from his mother's battle with cancer.
As for his Olympic dreams, Burch says, "Being in Rio will be all the sweeter after I beat this injury and get back on track. I've had a major perspective change and have come to appreciate things I've never thought about."
Save
Save