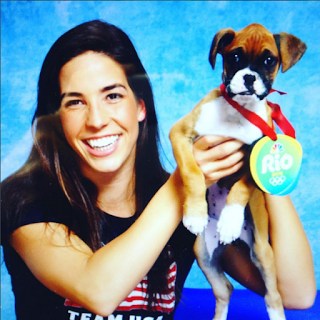 "Maya has a great natural feel for the water," according to Greg Meehan, Head Coach for Stanford University's swimming team. "Most elite swimmers do, but they don't always have this skill in multiple strokes." For Maya DiRado, versatility for the challenging Individual Medley (IM) has been her calling card, and it may be put to its most stringent test yet at the Rio Olympics.
Early Life (Not So Long Ago)
DiRado came into the world on April 5, 1993, in San Francisco. She was first called "Maya" by her sister, Sarah, who couldn't quite pronounce her given name, Madeline.
Despite being just 23, DiRado has 17 years' competition under her belt. At age six, Maya first stepped into a swimming pool; according to her family, she began swimming within minutes with barely any instruction! She'd soon join her first competitive swim team; she joined the Neptune Swim Club at age 10.
Very quickly, it became apparent that Maya was something special. She set team records in all age groups in which she competed. Her range was expansive, with records being set from the 400 IM to the 200 backstroke and the 50 freestyle.
Sharing some "wisdom" with my little Neptunes. So nice to be home in Santa Rosa! #swimtoday pic.twitter.com/wt6tl4K0On

— Maya DiRado (@MayaDiRado) April 8, 2016
Olympic Trials, Take One
At 15, she competed in the 2008 Olympic Trials. Though she fell short of making the team, it puts her in the position this year of being among the youngest two-time Trial veterans.

By the end of her high school career, DiRado was a three-time champion in the 200-yard IM. In her senior year, 2010, Maya obliterated the state's record.

While she did not make nearly so explosive a record in the 100-yard freestyle, DiRado was a champion of this event in the same year.
Setting Records at Stanford
In her college swimming career, Maya has earned numerous awards and distinctions. As a freshman at the 2011 Division 1 NCAA Championships, she swam her way to a silver medal in the 200-yard IM; in the 400-yard IM, she earned bronze.
These medleys are considered the most difficult events, yet her performances were strong enough to nab a spot on Team USA at the 2011 World University Games in Shenzen, China. There, she won an international gold medal (Maya's first) with a time of 4:40.79 in the 400-meter IM.
In DiRado's sophomore year, she earned another silver and another bronze at the 2012 NCAA Championships. Though DiRado only took fourth in the 400-yard IM, her performance still broke the age-group record.
DiRado is now one of only five women who have ever broken the four-minute barrier when swimming a 400 IM. She'd win gold for this event at the 2013 FINA World Championships.
Thanks @TylerClary for this awesome backstroke start drill for @MayaDiRado. Took 3 attempts, but the crowd went wild pic.twitter.com/27b23KLF7E

— Greg Meehan (@Stanford_W_Swim) March 29, 2016
The Road to Rio
At the 2012 Olympic Trials, Maya fell less than one second short of making Team USA. That was almost the end.
Having earned her degree in Management Science and Engineering, Maya's post-college career was slated to start last fall. Instead, she chose to defer so she could focus on the 2016 Olympics in Rio.
Maya will return to the Olympic trails later this month, this time as a professional; she'd signed on as a member of Team Speedo and is a member of the BMW Performance Team, alongside swimmers Nathan Adrian and Simone Manuel.
If her third time proves to be the charm, as the old adage says, then Maya DiRado will add "Olympian" to her already impressive resume and go for the gold in Rio this summer.
Save
Save