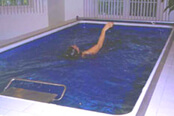 Aston, Pa.- In a tiny manufacturing business along the quiet, meandering Chester Creek, nobody's going anywhere fast. And that's just the way they like it.
It isn't that sales aren't booming. It's the nature of the product.
The firm, Endless Pool Inc., is located a couple of miles north of the Delaware line and makes a swim-in-place pool that costs about the same as a medium sized car.
Installed in a basement, garage or recreation room-or on a deck, in a back yard or in its own sun room-the heated, 7-by 14-foot swimming pool (just 39 inches deep) offers healthful aerobic exercise, family fun and even physical therapy.
And you don't have to bulldoze the lawn or dynamite bedrock for some Olympic-sized facility that only a few people will use, according to the firm's founder.
"It's like a treadmill in water. You can swim a mile without moving an inch," said Tim Plummer, vice president of the company.
During a recent demonstration dip, a reporter did just that. The sensation is like swimming upstream in a slow-moving river, with the current adjustable at poolside from a gentle eddy to near-whitewater strength.
If the effort is too demanding, the swimmer can relax and be pushed to the far end. Slipping out of the stream, the swimmer floats to either side and back to the controls-and another try.
Swimmers usually wear a snorkel and goggles while in the pool. Once the current control is set comfortably, the swimmer looks under water at an angled mirror about 2 feet square, breathes through the snorkel tube and settles into a relaxed crawl (or other stroke) without having to surface.
"Ours probably gets used five times a week for 40 minutes to an hour," said Linda Harra of Wilmington. She said she and her husband, Robb, "do a lot of scuba diving" and before getting their pool he belonged to a health club, though he found that to be inconvenient.
"We were flying back from somewhere and we saw an ad in the in-flight magazine," she said. When the couple moved into a new house recently, "we put it in the basement. It's an above ground room with lots of windows, Harra said.
The couple, with two adult children, invited their nephews, ages 12 and 14, to try out the swimming pool "and they did cannonballs in it," creating quite a splash, Harra said. "We love it," she said.
Harra also likes the idea that heavy chemicals aren't needed because Murdock designed the pools with a copper-silver ionization system. Murdock said the system "enables you to minimize your use of chlorine...with an occasional shot" of chemicals" to keep the 2,500 gallons in top shape.
"You don't have to change the water, but I do, once a year," he said. The nice thing with the ionization system is that you have no chlorine smell-and the water stays crystal clear," Harra said.
Murdock said about 20,000 pools are in use. The firm has a large wall map of the world, with pins showing where each swimming pool is located.
Endless Pools-a registered trademark with a snazzy logo of a swimmer-bought the building in Aston in 1988. It had been a furnace factory.
The pools are built of stainless and galvanized steel. They include a hydraulic pump remotely powered from a 220-volt electrical source.
A heating system keeps the water comfortably in the 80s. The electric heater costs Murdock about $100 a month, "but it comes with a gas or propane heating option" that would be much less expensive.
A honeycomb screen protects bathers from the 16-inch propeller. And the pools also come with a retractable safety cover that locks to prevent children from getting into the pool-or falling in- when nobody is around, Murdock said.
The pools are shipped in kit form. It takes two people about two days to assemble it, said Murdock, who has a staff of architects to answer technical questions by phone during installation. The company also can arrange for a Factory Trained Installer to install the swimming pool.
Endless Pools have been featured on "This Old House" on public television, and one appears in the science-fiction movie "Gattaca" starring Uma Thurman and Ethan Hawke, Murdock said.
One user, Alan Trip, 80, of Bryn Mawr, Pa., is convinced that the pool has kept him healthy and delayed the aging process.
"I've had one for seven years and I use it every day. I took a terrace outside the house and covered it with a greenhouse," he said.
"You know, this goes back to ancient medicine. People have known for thousands of years that water going across the human skin does a great deal for circulation and muscle tone. I think it's part of the reason I'm here," Tripp said.
Save
Save